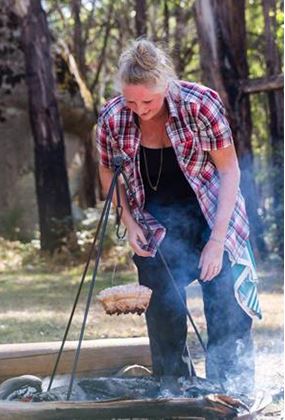 Fire Roasted Feast
with Bente Grysbaek
Sat May 14 6:00 PM
Dining Room
General Admission
Danish-born chef Bente Grysbaek will step out of the kitchen of Melbourne's Pope Joan restaurant to take flame-grilling to the next level as she cooks this fire roasted feast!
The menu will be served as a feast and includes
Bullhorn bruschetta, foraged mushroom skewers and Western Plains ham and broccolini canapés followed by -
Victorian Kingfish
cured and smoked served with charred leeks,
Wild Goat
from
Discovered Wildfoods
cooked for 12 hours Asador style with fresh corn polenta and chimichurri and finally
Grilled pears
with sabayon, smoked blackberries and dark chocolate.
All matched with Delatite Wines.
This is a feast not to be missed!